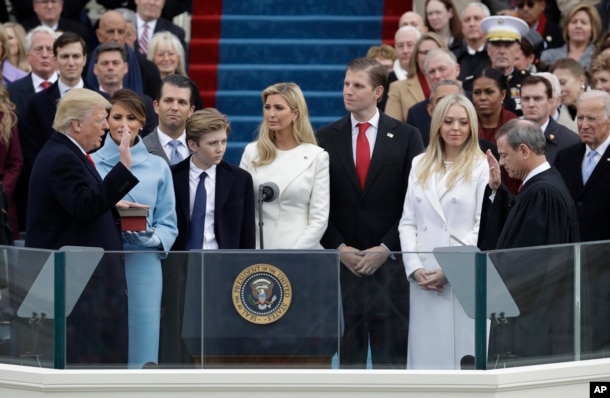 "...I, Donald John Trump, do solemnly swear..."
Donald Trump took the oath of office Friday to become the 45th president of the United States. He vowed to transfer power from Washington, D.C. to "the American people."
Outgoing President Barack Obama stood nearby as the Chief Justice of the U.S. Supreme Court, John G. Roberts, Jr., administered the oath of office to Trump.
At his side for the ceremony was his wife Melania and his five children. Mike Pence had been sworn in as Vice-President moments before.
It is the scene that has been repeated every four years since 1789.
Patriotic music was played. And canons were fired.
The Capitol building was decorated with flags. Hundreds of thousands of people came to the Capitol grounds to see the new president sworn in. They wore red white and blue clothing with Trump's name on it. Some wrapped themselves in flags. Many cheered the man they had elected to the office....